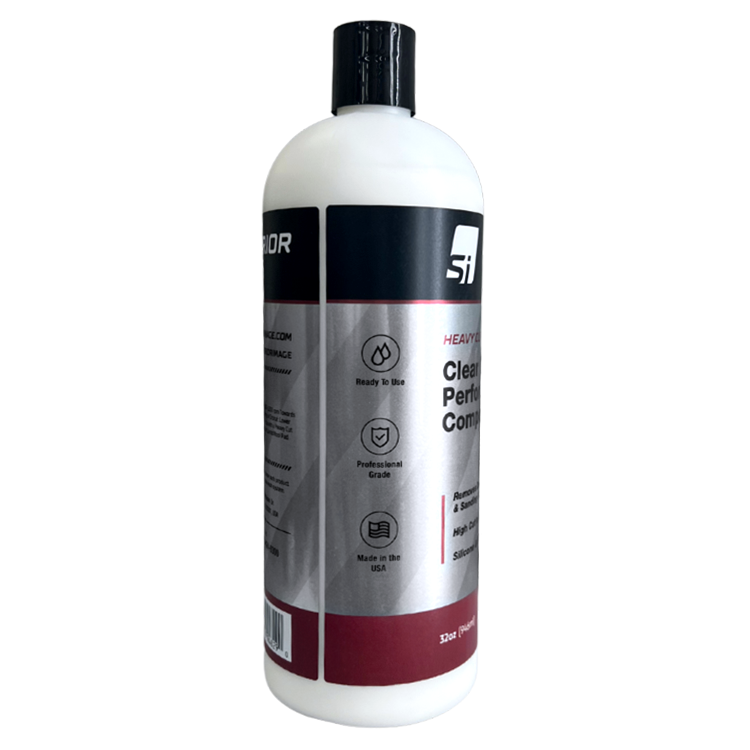 Regular price

Sale price

$27.99

Unit price

per
Our are new Premium Black Label product, Heavy Cut & Finish is an excellent clear coat performance compound that allows you to remove deep scratches & sanding marks while achieving a deep glossy finish. This compound is also Silicone & Filler Free making it the perfect final touch before waxing sealing or coating.
It comes in a 16oz or 32oz bottle with a snap top for ease of use, and cleaner storage. Our bottles and labels also provide a grippy surface for those quick one hand grabs while applying polish to your polishing pad. 
Directions:
When using a Rotary: At the start: 800–1,500 rpm Towards the end: 1,800–2,000 rpm  
When using an Orbital: Lower to upper rotational speed range
Tip: Pair Up with a Heavy Cut Foam Pad, Microfiber Pad, or Premium LambsWool Pad.
1. Use on a freshly cleaned surface (clay bar as needed) 
2. Shake the bottle and apply the polish to the polishing pad (3-4 small pea sized dots, or a thin line, around the pad) 
3. Using the cross-hatching method. Start by polishing a small section, at a low rotational speed while exerting strong pressure.
4. Take away the pressure in the final cycles and increase the speed of the polishing machine.
5. At first, the polish will seem a little milky and should be worked in until only a slightly transparent/oily film is visible.
6. Once you have finished polishing, remove any residue with a clean microfiber towel..
7. Depending on the demands of the surface, a second stage may be performed. You can reapply or use our Finishing polish or 3 in 1 Polish with appropriate pad.